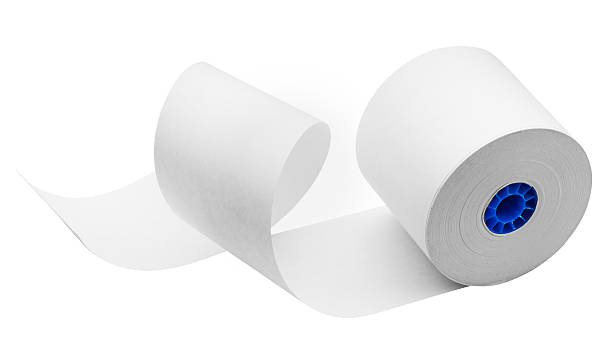 Can I Use Normal Paper on a Thermal Printer?
"Can you use thermal paper in a regular printer?" is among the common questions in the printing industry. While many would want this to be possible, the answer is no. Thermal printers can only work with thermal papers.
This is because the principle behind thermal printing technology involves a printing head heating thermal paper with chemicals. The normal paper doesn't have chemicals that will show text or images when heated.
Graphic Tickets stocks a wide variety of high-quality thermal papers that suits all your needs.
What is Thermal Paper?
Thermal paper is a special printing paper that changes color when exposed to heat without using traditional ink. These papers differ from regular papers as they are coated with heat-sensitive dye and chemicals.
When exposed to high temperatures, the dye and chemical combination reacts, causing a color change. Thermal printers use a print head to heat correct spots of the paper to produce texts and images. The chemical composition of thermal papers varies based on the manufacturer.
Thermal papers are made of two, three, or four layers determined by manufacturers. The layers include;
The substrate layer – this is the ordinary paper material made from wood pulp

The base layer – also called the precoat, smoothens the surface fibers to create a perfect printing surface. It also stabilizes the paper by absorbing activated dye after printing. This prevents heated dye from sticking to the printer head.

The active layer or thermal coating – this is the layer that contains heat-sensitive chemicals. It contains chemical compounds that produce text and images when heated. The compounds are leuco dyes, sensitizers, and developers.
Some thermal papers contain additional protective layers at the back and front, which prevents texts and images in paper from fading. The layers are called reverse coat and topcoat, respectively.
What is Regular Paper?
Regular papers significantly differ from thermal papers in many ways. For starters, they don't have heat-sensitive chemicals on their surface. As such, they rely on traditional ink to produce text and images. Secondly, unlike thermal papers, regular papers are comparably thin and lucid.
Regular papers are available primarily in two types – Matte or Glossy. Matte regular papers have a bright external layer, while glossy papers are shiny. Most people cannot decide which regular paper type they should use for their inkjet or laser printers.
Generally, if you want to print draft copies, you shouldn't focus too much on the quality. Therefore, you can use plain printing paper. However, for final copies or colored presentations, thick-coated matte paper is a good choice as it produces sharper colors and better resolution.
Difference Between Thermal Paper and Regular Paper?
Thermal paper and regular paper-primarily differ for their functionality. Some of the key differences include;
Installation
Thermal papers are easy to install compared to regular papers. Regular papers can only be printed using traditional inkjet and laser printers, which require ink ribbons and cartridges to function. While the print quality of these printers is above average, the mess associated with the use of ink was common.
On the other hand, thermal printers use thermal printing technology. These printers don't need much, as they primarily use heated printer heads to create texts and images. So, apart from clear printing, you won't have to worry about frequently buying ink cartridges and ribbons.
Quality of printing
As mentioned, the risks of smudging ink over receipts and printed papers were real with traditional printers. In addition, receipts from regular papers exposed to harsh environmental conditions also started fading, shortening their lifespan.
On the other hand, there is no risk of smudging ink over the paper with thermal printers. Since they use a thermal print head to produce texts, thermal papers produce high-quality output. The papers are also high-quality, eliminating risks of ink drops and fading.
Cost
The cost of printing is another major differentiator between regular papers and thermal papers. Therefore, you should embrace business practices that minimize costs while maximizing returns like other businesses. Interestingly, printing costs are one of the most overlooked production costs.
Using regular printers for your business means that you will have to buy ink cartridges and ribbons frequently. You will also incur some printer maintenance costs. However, this isn't the case with thermal printers.
Thermal printers have very few moving parts, which reduces maintenance costs. Your only expense will be buying thermal papers, which you can source affordably from reliable dealers, such as Graphic Tickets.
Print lifespan
Regular papers and thermal papers also have different print lifespans. Thermal papers are the best choice for those who want long-lasting prints. Unlike ink cartridge prints, thermal head prints last for decades. As a result, businesses, organizations, and customers can preserve records of previous transactions for many years without worries of fading.
Can Normal Paper Be Used in A Thermal Printer?
Unfortunately, normal paper cannot be used in thermal printers. As mentioned, normal papers rely on traditional ink cartridges. On the other hand, thermal printers use modern thermal printing technology, which only suits printing papers with thermal chemicistry compounds on their surfaces.
What if I Want to Use Normal Paper to Print Receipts?
If you prefer using receipt paper for regular printers for your receipts, you should consider using traditional printers, such as inkjet printers. While the cost of purchasing a normal paper is lower than buying thermal papers, you will incur additional costs, such as ink replacement, which significantly adds up the costs. Besides, regular printers also print more slowly than thermal printers.
Conclusion
To conclude, you cannot use normal paper on a thermal printer. There is no way to print on thermal paper using a normal printer. Regular papers can only be printed using regular printers, and thermal papers can only be used with thermal printers.
If you are running a business and would like to upgrade to thermal printers, you don't have an option but to purchase thermal papers. They might be a considerable investment but will reduce your expenditure down the line. Order your thermal papers from Graphic Tickets today.