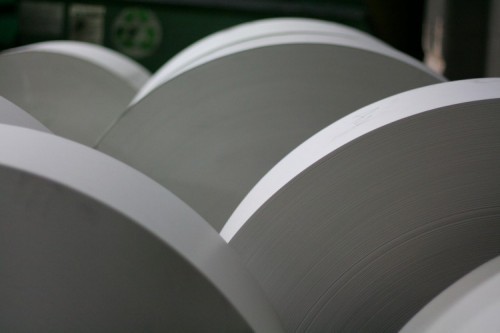 Tips for Selecting a Thermal Paper Supplier
Buying thermal paper sounds simple, right? Well, in a way it is. There are many suppliers to choose from, all eager to sell you mass quantities of paper rolls. The trick is to find the thermal paper supplier best suited to your particular needs. One that will provide quality thermal paper that's competitively priced and properly matched for your machine.
Here are some of these tips to help guide you through the process:
1)  Check your machine specs: Various printers come with different machine specifications that dictate the right kind of paper to use. Some suppliers will look to sell their standard stock paper, knowing that it will be "close enough" to your machine specs. Well, you know what they say about close enough, don't you? Make sure you pick a supplier that matches all OEM specifications to ensure the proper match.
2) Price isn't everything: Inferior paper, or paper that isn't ideal for the specifics of your machine, will jam, tear, and clog your machine. You may feel thrifty for getting a great price on thermal paper, but you'll be regretting your decision when your machine breaks down. Remember, there's a big difference between affordable and cheap.
3) No substitute for service: Cheap thermal paper is great until something goes wrong. Then what? How do you hold a company lacking customer service accountable? Establishing a strong relationship with a paper manufacturer will wind up saving you money and peace of mind over the course of time, even if it costs a few cents more per roll. You want someone you can call and count on.
4) Innovation saves: Printing technology is evolving at an exponential rate. The new machines are quieter, faster, more efficient, and make fewer mistakes. Most suppliers are working to manage overhead by operating on older machines. The ones you want to work with are continually investing in new equipment, which allows them to turn jobs around faster, more proficiently, and, ultimately, at a lower cost due to less waste and fewer mistakes.
5) Consider customization: One of the best ways to recoup paper costs is by advertising, or selling ad space, on the back of the paper receipt. Premier suppliers of ATM paper, Kiosk Paper, and POS paper rolls are experts at customization, and can print clear, full color advertising graphics on the back of the receipt paper for your advertising customers, or to help cross promote other products.
At Graphic Tickets & Systems, our mission is to make Every Transaction Count. We do so by helping make your thermal paper transactions as impactful and profitable as possible. Please contact us to discuss your paper needs, or to obtain a free quote.