The airline and travel industry plays an integral role in many people's lives, and it's not difficult to see why. Traveling provides an avenue for people to escape from the daily grind of life, explore new places, and find new adventures. Some people also have work-related travel, covering business trips and company functions.
 However, the airline and travel industry faces many challenges regarding efficiency and marketing their products despite their popularity. The critical competitor of this industry are airlines themselves. Airlines offer a variety of packages for their customers that can include airfare, connecting flights, and hotel deals. This makes it harder for travelers to choose one airline over the other.
The airline industry is a valuable service that needs exposure to a broader market. Unfortunately, many people are unaware of the potential of the travel and airline industry, which subsequently leads to fewer deals for everyone, including airlines.
Airport Boarding Passes & Bag Tags
The airport bag tag is an essential part of the boarding process and must comply with TSA guidelines. The bag tag should be easily visible and not allowed to become damaged. Airport bag tags are available for all sorts of travel, whether personal or business. You can print bag tags that comply with the law using airline printers.
 Equally, your airline printers should produce airline ticket receipts and a printed boarding pass. The paper airline ticket should include the passenger's name and paid amount. In contrast, the printed boarding pass should have the name, contact details, departure, and destination details.
Bag tags are printed with airline printers and given upon check-in at the airport and placed on your bags before entering security. These allow airline and airport staff to identify your luggage from other passengers quickly. The airlines prefer that you not tape any extra papers or messaging onto your bag tags once you have been assigned a label.
To identify boarding passes and bag tags quickly and easily, working with a credible supplier like Graphic Tickets is crucial. We specialize in making quality custom papers that meet the needs and requirements of your business. We can also offer a range of pre-made bag tags and ticket designs, depending on your preference.
 RFID Enabled Labels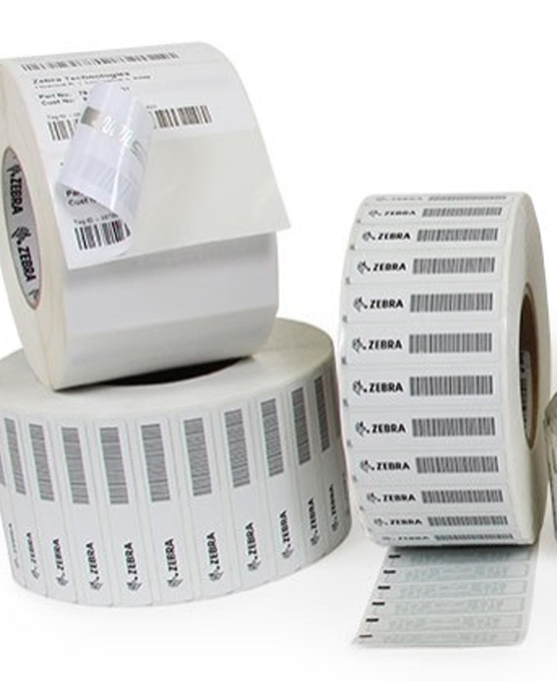 An ID, passport, or employee card are essential documents in an airport. In addition, RFID-enabled tags are necessary for employees and visitors. They allow airport staff members to know who is coming in and out of their facilities.
RFID enabled labels to provide an innovative way for companies to offer their customers a seamless, hassle-free travel experience. These labels are verified at each stage of your travel, including check-in at the airline counter and entering through security.
Graphics Tickets can create RFID-enabled tags with your logo, company name, or custom message on request. You can use custom airline printers to print these RFID enabled tags.
Kiosk Paper Rolls
When traveling, it's sometimes necessary to use an airport kiosk to print out a paper airline ticket, airline receipt/airline ticket receipt, or even a printed boarding pass.
Often you can get these printed boarding passes in advance before you leave for the airport. However, there are cases where this is not possible. In this case, airline printers are available for travelers to print their documents on demand.
Kiosk paper rolls should be of good quality and reflect your brand. They should allow your customer to find your company easily when searching for travel-related products and services. At Graphic Tickets, we can create a custom printer paper roll that suits your industry and requirements. In addition, we can work with you to design a roll that best represents your brand to attract and retain travelers.
Custom Kiosk Paper Rolls
Custom airline printers for a kiosk paper roll are a great way to promote your brand's presence at the airport. This can be done with a pre-printed paper roll that is made to suit the requirements of your industry and customers. For example, the airport print can print out messages marketing a travel company on the printed boarding pass or paper airline ticket.
On request, Graphic Tickets can create custom kiosk paper rolls for one-time use or as a permanent addition to your company's brand. We can also make a custom printer paper roll that suits your industry and requirements from our extensive range of plain and dyed papers on offer.
We can help you create custom airline printers paper rolls that reflect your brand and business. These will be sturdy and durable, as these kiosk paper airline tickets are built to last. We also provide you with fast turnaround times for producing these paper rolls so that you never miss a sale.
POS Paper Rolls
One of the most critical areas of an airport is the check-in counter. As a traveler, you can confirm your travel plans and ensure that everything goes according to plan. However, you must receive assistance before your flight takes off when traveling. A lack of help can delay your flight significantly.
The check-in staff must ensure that they have a stock of POS paper to provide customers with all the necessary documents, ranging from printed boarding passes to baggage tags and airline ticket receipts.
Airline baggage tag printers can be customized to produce tickets containing your company logo, brand, and name so that it's easier for your customers to recognize them.
Graphic Tickets can offer you a range of POS paper rolls in various sizes to suit your business. In addition, all our stocks are available in plain uncoated and coated stocks.
Cleaning Cards
Cleaning cards are unique cards used to clean digital points like POS terminals, ATMs, and other electronic devices. The cards contain glass beads or soft plastic brushes on their surface, which clean the dirt and dust on the device. Common cleaning cards are card brushes, magnetic brushes, and glass beads.
Conclusion
Graphic Ticket is a leading supplier of various airline printers, paper rolls, and inks. Our stocks include multiple products that suit your business needs: security printers, paper rolls, cleaning cards, bag tags, custom printed designer and digital tickets, kiosk printer rolls, etc.
Given that travel tends to be stressful, airlines have a lot of work to appease and keep their customers happy. At Graphic Tickets, we can help your company create a custom paper roll tailored to suit your brand and requirements.
At Graphic Tickets, we can also offer you a range of pre-made bags tags, boarding passes, and ticket designs, depending on your airline printers. Our experienced printing service means you are guaranteed excellent value for money and fast delivery. Call us today to find out more.