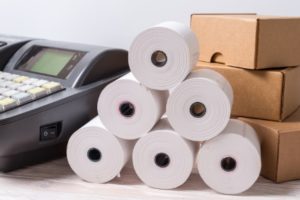 The printing industry has evolved drastically over the last decade, and we have evolved with it. That's why we've become one of the leading stock and custom thermal paper suppliers in the country.
Not by pursuing dead-end product trends. Not by complicating our processes. It's actually been the opposite. Our success comes from getting back to the basics. It comes from having a greater understanding of our end product – your transactions – and how we can help enhance them.
We don't succeed just by saving you cents on a roll (although we do that, and more). Our success comes from helping make every one of your transactions more meaningful, more valuable, more impact, and more profitable. It comes from improving your business performance; from boosting your bottom line.
This isn't just internet babble, either. You'll see it in:
The quality of our people and the strength of our principles
Our premium quality and lower costs
Our initiative and forward thinking
Our passion and unwavering commitment to our customers
Our unrivaled experience on the press floor
We've been in business for over 20 years. And still we treat our customers as though they're our first, and only one.
We know that you're purchasing more than just just paper. You're investing in an experienced partner. So, we go beyond printing to maximize your transactional media.
At GTS, our mission is to Make Every Transaction Count.
We look forward to your call.