About Thermal Paper
Below are some definitions you should know about thermal paper, its structure, and layers in the paper;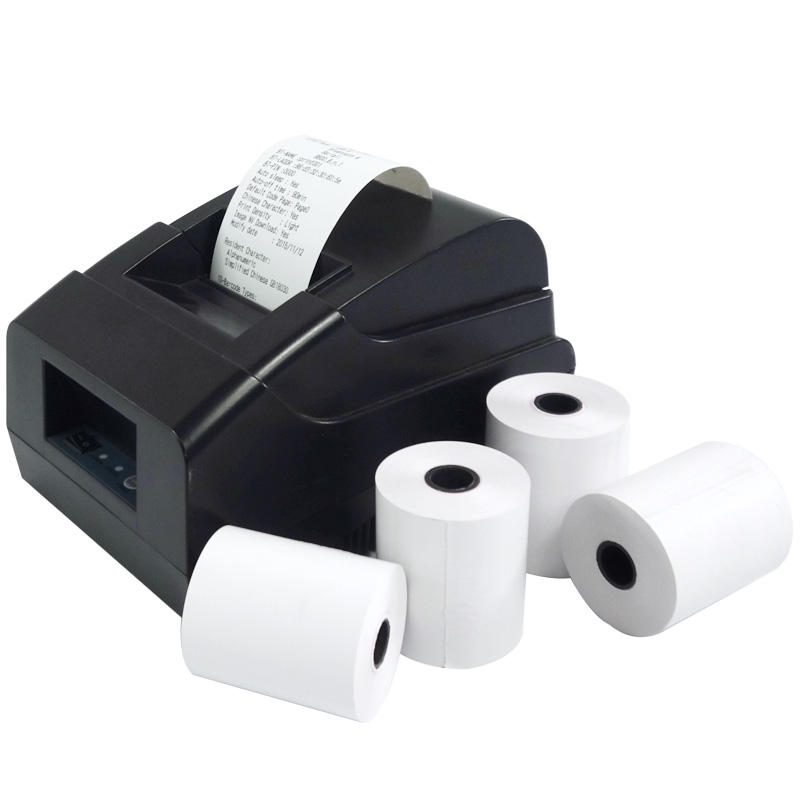 Thermal Paper
What is thermal paper?
Thermal paper is a special type of paper that changes color when exposed to the high heat produced by a thermal printhead. These papers are used in thermal printers, including credit card terminals, cash registers, and other machines. While all have nearly the same properties, you should find a good quality thermal paper by choosing a reliable thermal paper seller near me.
When was thermal paper invented?
The first thermal paper was invented in 1965 by Appleton Papers. However, this technology wasn't adopted until the Silent 700 printer was developed in 1969. NCR Communication later advanced the production of thermal paper sheets between 1980 and 1990, improving its feasibility since thermal paper roll printers had become affordable then.
How does thermal paper work?
Thermal paper is basically a recording media that thermal printer prints on. Images from the thermal printer are produced using heat when the thermal print head touches the surface of the thermal paper. The image from the printer is transferred by thermal energy, which changes the color of the thermal paper coating to black. Thermal printing can be done in small, compact printers with 3 ⅛" thermal paper, thermal paper rolls 2 ¼", and other thermal paper sizes.
How to preserve thermal paper
Most manufacturers offer longer-lasting thermal papers with their topcoat and back coat designs. Top coating thermal paper prevents it from various damaging factors. So to say, the topcoat layer used protects the thermal paper from oil, solvents, water, scratches, and humidity. On the other hand, the back coat provides a back-barrier that prevents it from adhesives and curling. You can purchase these long-lasting thermal papers for your printing needs. 
What is the difference between thermal paper and regular paper?
Thermal paper varies significantly from regular or standard printing papers. Apart from the common properties found in regular receipt papers, such as thickness, moisture, and grammage, a thermal receipt paper has additional features. Key features that differentiate thermal paper from regular paper include image stability, static density, dynamic sensitivity, and density. You can test your thermal paper rolls and compare your findings with those of regular papers.
Thermal Paper Structure
How do I know what base my paper is?
All small thermal paper rolls have base paper and some special costing layers. The base paper of thermal paper is the first layer developed specifically for thermal paper technology. As such, this paper is coated with a thermal layer, making it easy to identify.
Precoat Layer
What is a precoat layer?
The precoat layer is the second layer that comes immediately after the base layer of any thermal paper. A thermal paper roll manufacturer should include this layer as it improves uniformity, smoothness, anchoring, and heat insulation of the thermal layer.
Thermal Layer
How can you tell if a paper is thermal and perfect for machines?
You can identify that the paper is thermal simply by scratching the paper with a fingernail. Unlike regular papers, scratching a thermal paper will leave a mark. You can also identify thermal paper using its texture. The active thermal coating on thermal papers gives it a slippery texture compared to rough regular paper. That said, to determine a suitable thermal paper for the pos machine, consider several factors, primarily the width of the printer.
The above highlights some of the important things you ought to know about thermal paper rolls. Evidently, they should be your paper of choice for all your printing needs.
Types of Paper Rolls
Paper rolls are another common phrase in the printing industry. That said, this chapter focuses on paper rolls and the various types available on the market. Before looking at them individually, there are three types of paper rolls. They include;
Thermal paper rolls

Bond paper rolls

Carbonless paper rolls
Read on to understand how these three are different and the applications of each paper roll.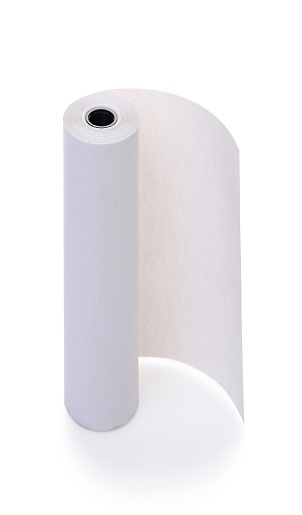 Thermal Paper Rolls
What are thermal paper rolls?
As the name suggests, Thermal paper rolls are thermal papers widely used for packing, indicating prices, identification, shipping, cartons, containers, and equipment. Basically, nearly every industry uses thermal label rolls.
What are the benefits of thermal paper rolls?
Among the many benefits of using thermal paper rolls in your business include;
Versatility – thermal paper printing is fast and produces high-quality images. The rolls can also be used in various industries, thanks to their versatility. Industrial application of thermal receipt paper includes healthcare departments, businesses, ATMs, gas stations, and more.

Reduced cost – thermal printing is inkless. This means businesses won't have to incur the costs of buying ink ribbons and cartridges. The only purchase required for thermal printing is thermal paper.

Low maintenance cost – thermal printers have few moving parts, reducing the likelihood of demanding maintenance.

Fast – printing on a thermal paper roll using a thermal printer is fast compared to printing using a regular printer. Images are transferred in milliseconds from the printhead. This allows for speedy labeling, packaging, and printing of customer receipts.
Bond Paper Rolls
What is a bond paper roll?
Also called normal paper rolls, bond paper rolls resemble ordinary white papers. They are made from jumbo bond paper rolls and are majorly used to print receipt printers with ink ribbons.
What is the difference between thermal and bond paper?
Thermal paper rolls have a combination of chemicals and dye on the surface coating and can be used with thermal printers, while bond paper rolls only have a specially treated surface, and most can be used by HP printers, which rely on pink ribbons. Bond papers don't contain a chemical coating and highly resemble regular copy papers. Always purchase thermal paper rolls in bulk to avoid dealing with ink ribbons.
What is bond paper used for?
Some of the common bond paper uses include;
Contracts – most lease agreements,

NDA agreements

, employment contracts, and purchase contracts are drafted in a bond paper roll.

Brochures – you can use bond papers to make brochures of your company, products, and services. They are an excellent alternative to cardstock.

Cover letters and resumes – you can use bond paper rolls for your CVs and resumes in place of regular copy papers.
Other uses include event invitations, drawings, invoices, business letters, reports, proposals, and tax forms, among others.
Carbonless Paper Rolls
What is a carbonless paper roll?
A carbonless copy paper can be used in place of thermal papers for printing receipts. A carbonless paper roll is made up of two or three layers, most commonly each layer is a different color (white and canary). Most businesses use a 2-ply carbonless paper roll, where one copy is given to the customer, and the other remains with the business owner.
What is carbonless paper used for?
Carbonless copy paper was produced first by NCR corporation in 1953. Since then, carbonless paper roll has become vital business stationery, especially for businesses that required more than copies of an original document, especially receipts and invoices. With the increasing popularity of carbonless paper printing, stationery with two-ply carbonless paper rolls has been collated in books or pads.
Hopefully, this chapter highlighted the three main types of paper rolls to your satisfaction. Choose either, depending on your business needs.
Benefits of Using Thermal Paper
Evidently, thermal paper is overly important for businesses across all sectors. However, how do they benefit from using thermal papers compared to using regular printing papers? This chapter outlines some of the benefits that businesses get by using thermal papers.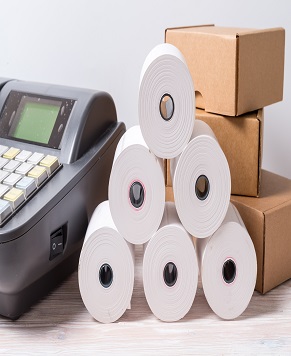 Accuracy and Quality Billing
Why is it important to obtain accurate billing information?
Depending on the nature of your business, you might be printing thousands of shipping labels, paper receipts, billing paper, lottery tickets, parking tickets, and more. As such, you should ensure that your printouts are readable and very legible for your customers. Fortunately, as mentioned, thermal paper has smooth and even coating on the surface, assuring quality printouts, especially since printing doesn't involve ink ribbons. With this, you should expect high definition and crispy clear computer billing paper and other ticket types.
Faster Printing
Does thermal printing help in faster printing?
Traditional printers were very slow because they relied on ribbons to transfer ink from ribbons to printing papers. However, a compact thermal printer produces images quite faster. For instance, thermal printer Epson transfers images from the printer head to thermal papers within milliseconds.
As if not enough, the images dry immediately, enabling businesses to print receipts faster, reducing the waiting time in queues. Based on this, you should consider using a thermal printer online for your business.
Low Maintenance Costs
How do I maintain the quality of thermal paper on a budget?
Thermal printers are the best choice of printers if you want to maintain the quality of your printouts without spending much on maintaining your printing machines. Unlike traditional printers that required occasional maintenance, such as wiping inks from the print head, thermal printers transfer images using thermal energy.
As such, using high-quality thermal paper is extremely important.
Reduced Printing Costs
How do I reduce printing costs?
Interestingly, thermal paper rolls are comparably cheaper than other printing paper forms. This makes thermal printing cheaper than other printing methods. That aside, you will not only incur the high cost of purchasing regular papers but also the cost of ink refills and maintenance. On the other hand, a thermal printer is a low-consumption printer, as it has no ink, toner, or cartridges. However, you might incur a high initial cost of buying a multi-page printer or a receipt scanner, which are quite expensive compared to regular printers.
Durable and Saves Time
What are the benefits of thermal paper rolls?
Unlike ink printers that have very many moving parts, thermal printers have few moving parts, which make them reliable and long-lasting. Besides, you won't have to worry about paper jams, as the case was when ink printers were overworked. Thermal printers produce sharp, durable, and top-quality thermal tolls all the time. You will also enjoy long-lasting thermal rolls, especially if you use a waterproof thermal roll.
How long does thermal paper last before it fades?
Despite their recent outburst and increased adoption, thermal printing has recently been a subject of discussion, with most people questioning how long a printed thermal paper roll can last.
Most manufacturers have promised long-lasting thermal rolls, with some suggesting that direct thermal printed papers can last between 7 and 15 years, those printed on premium thermal paper lasting between 20 and 25 years, while those printed on synthetic media last for over 20 years.
However, this depends on how your business and customers handle their receipt papers. If they aren't kept well, they can degrade within 24 hours.
With the above said, your business might be missing out on a lot if you don't use thermal papers. You are not only giving your customers poor quality receipts but also incurring a lot of printing costs by using regular printing papers.
Quality Types and Identity
If you intend to start using thermal paper in your business, you should learn how to differentiate between the three main types of receipt papers used in retail and POS terminals. This chapter highlights how you can identify thermal papers from other types.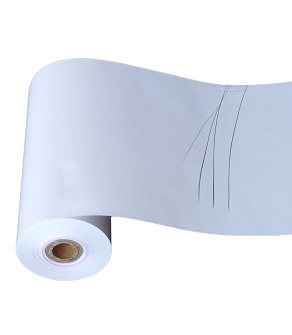 Thermal Paper
How do you test thermal paper quality?
Without a doubt, the easiest way to test for good quality thermal paper is using a thermal printer. However, what happens if you don't have a thermal printer nearby? Well, worry not as you can confirm the thermal paper quality by using your fingernail. Simply scar the thermal paper using your finger and observe if it leaves a mark. While it should leave a mark for thermal papers, there is an exception to that. If it doesn't, check both sides of your store-proof thermal paper since some thermal papers have a thermal surface only at the back of the paper.
Bond Paper
What is Bond paper made of?
Bond paper is the other type of receipt paper rolls. These paper rolls are made from ply paper and require ink or cartridge to print images or other details. Since they don't have a thermal layer coating, bond paper isn't as shiny as thermal paper. Also, they won't leave a mark or change their color if you slide a fingernail on your surface. If you prefer using receipt paper roll type in your business, purchase it from the best woodfree thermal reseller.
Carbonless Paper
What is the difference between carbon and carbonless paper?
A carbon paper uses sheets of blue ink between pages, while a carbonless paper has multiple layers like: white, yellow, blue, and pink colors and nothing between the layers. Like bond papers, carbonless papers require ink ribbons and in impact device to print receipts. You can purchase carbon paper bulk from various online retailers.
Important Considerations/Attributes
Finding a good thermal paper for your printing needs is very important. While thermal papers may appear similar, their chemical composition makes these materials differ in their resistance to heat, moisture, and many other extrinsic factors. That said, below are some considerations to look into when choosing a thermal receipt paper.
Heat Attribute
What temperature is good for thermal paper?
If you are worried that your thermal receipt paper will be affected by heat, ensure that you choose a heat-resistant thermal paper. For instance, if your documents are stored in rooms that surpass 150 degrees, especially in summer, chemicals in the paper may react, making them illegible. Fortunately, some thermal papers are specifically designed to withstand high temperatures.
Coating
What is the coating process of thermal paper?
While all thermal receipt papers have a thermal and base coat, not all have topcoats. However, top-coated thermal papers have an extra protection layer that prevents them from damage by environmental factors. Dark-coated thermal paper, which doesn't have topcoats, is best for printing applications that aren't exposed to harsh conditions.
Thickness
What is the paper size of thermal printer?
Long thick thermal papers are more durable and tend to be of high quality than less-thicker paper rolls. However, thick receipt papers have short paper rolls, thus prints only a few documents. For instance, 48-50 microns thermal papers are between 10 to 18m long.
Moisture
How do you preserve thermal print paper?
You should make an effort to use long-lasting thermal paper for your printing needs. If your printouts will be exposed to moisture or highly humid areas, you should use thermal papers with better moisture resistance. Such thermal papers have a synthetic material that prevents them from degrading.
Archivability
Is thermal paper biodegradable?
You should consider the achievability of your thermal paper if you need to store the printouts for later reference. This means that your biodegradable thermal paper of choice should be durable and better protected from moisture, heat, and other factors. That aside, ensure that you use environment-friendly thermal papers that conserve the environment.
There you have it. Most of what you need to know about thermal papers. While you should trust retailers when making a purchase, ensure that you verify, especially when ordering your paper rolls online.
Thermal Paper Roll Size
Every paper roll has specifications that buyers need to be aware of. Knowing the correct thermal paper roll size with its specifications is the very first step in purchasing the paper roll for your printer. To get the best paper roll, you must have complete knowledge about your receipt printer. Especially, you should have an idea about the model number so that you can search around the compatible roll length, width, diameter, and core size. Connecting with a reliable thermal paper supplier can help you get the best thermal receipt roll along with the most compatible paper ribbons and cleaning supplies altogether.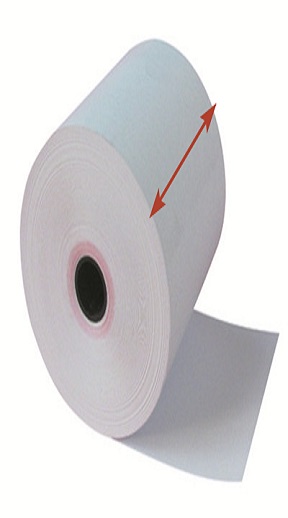 Roll Width type (80mm, 57mm, 76mm)
How do you calculate the width of a roll of paper?
It's pretty easy to measure the width of a paper roll. You only need to hold the ruler and measure it from side to side, keeping the paper face outside. When you calculate the thermal paper width, ensure the ruler's edge is appropriately lined up with the paper edge. Note down the paper reading by checking the point where the opposite side intersects with the ruler. To get the correct paper width measurements, it is mandatory to keep both the edge of the paper and the edge of the ruler together.
Generally, you'll find thermal paper rolls with 80mm thermal paper, 57mm thermal paper, and many more if you search around. However, if you want to purchase the appropriate thermal paper for your printer, connecting with a thermal paper supplier would greatly help.
What printer can work well with 80mm Roll width type thermal paper?
80mm thermal paper roll is the normal and most popular paper size and is compatible with any thermal printer. Thermal paper with 80mm roll width is widely used in logistics, retail, financial industry, superstores, banking, and parking lots. If you're looking for the best and appropriate paper roll size for your thermal printer, connecting with a credible thermal paper company will help you achieve your goal.
Roll Diameter Type (20mm to 250mm)
How do you calculate the roll diameter of a roll of paper?
If you want to measure the diameter of the roll, you have to measure across the end of the roll, which is going directly through the core or center spindle. Generally, thermal paper comes with a roll diameter of 20mm to 250mm, but you have to choose the paper according to your POS machine size thermal paper. You can do this process by standing the roll on its end so it cannot roll or move around.
Roll Length Type (55m to 83m)
How do you calculate the length of a roll by diameter?
Different paper grades have different lengths for the same paper roll size. For example, if you have thermal paper with 80mm x 80mm, the length of a paper can be anywhere from 50 to 90 meters long. It also includes 75 feet thermal paper which seems to be the standard paper roll size. You can connect with a supplier if you want to know about the exact length of the thermal paper for your thermal paper.
How do you know when it's time to replace your POS paper roll?
You must be thinking about how you know when it's time to replace your receipt roll before the machine runs out of paper. Don't freak out; there's an effortless way to recognize it. When you install thermal paper or any bond paper to the printer, you see an end-of-roll warning colored stripe just before the end of a Point of Sale thermal paper, carbonless paper, or bond paper.
At the end of roll, the warning stripe is marked with either an inked wheel or the marking pen, which can be visible red, pink, or green color. When you see these lines appear, you have to get ready with a new roll to get printed receipts.
Core Size of Thermal Paper
How is thermal roll core size measured?
The core size of thermal paper is the diameter of the round tube on which the paper is rolled. To calculate the core size, you have to measure its both outer and internal diameter.
Inside Diameter – It is the size of the center hole available in the core. It needs to be measured because certain printers use a specific spindle or pin holder to support thermal paper, and the internal diameter or core I.D. should be matched to get better printing results.
Outer Diameter – It is the full size of the entire core and needs to be measured carefully to check if the outer diameter is for 12.7mm core size thermal paper, which is the standard core size.
How do I calculate the thermal paper roll weight?
There's a very simple method to calculate the weight of the thermal paper roll. You only have to multiply the roll width, length, and GSM, and here you get an approximate weight of your paper roll.
Check out the given formula to make your calculation easier.
WEIGHT = WIDTH(W) X LENGTH(L) X GSM(KG/M²)
Apply this equation to your purchased heavyweight thermal paper receipts rolls to get an idea about the paper roll weight.
How to Buy Thermal Papers?
Nowadays, paper dealers are buying and importing thermal paper from the market. Still, they hardly know the facts that need to be focused on while purchasing thermal paper for their business operations. For instance, they can check if the thermal paper is of high quality, the paper you're buying goes well with your printer, or many other things. Let's check out how and what you have to do.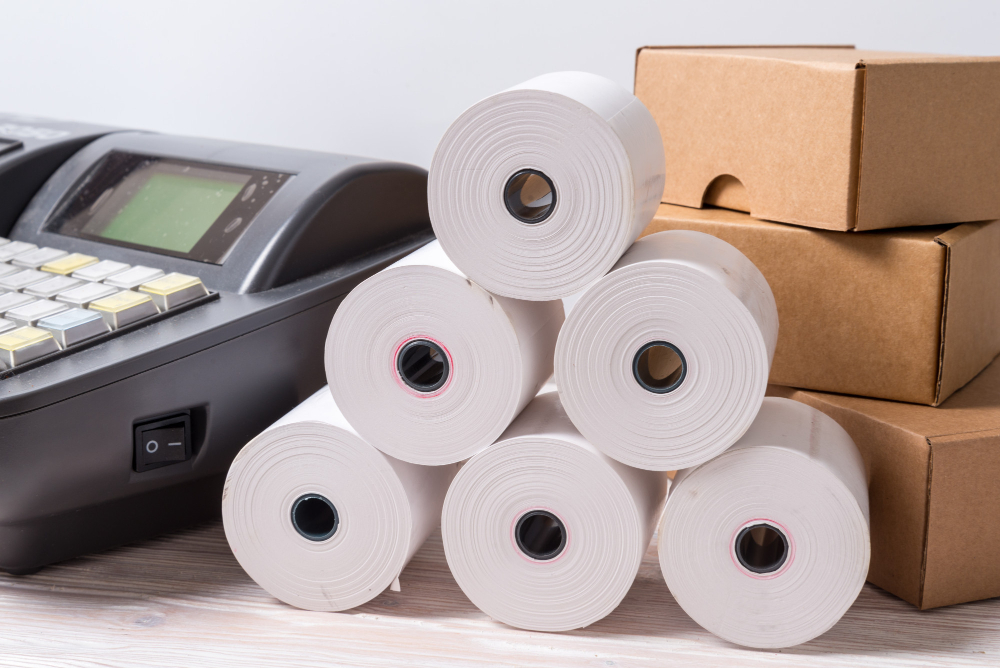 Be Cautious About Paper Diameter and Length
How do you calculate the size of a roll of paper for a POS machine?
When you choose the thermal paper for POS machine, you have to keep the diameter and length in mind. Make sure that the thermal paper for invoice machine you're purchasing has the appropriate length and roll diameter that fits well in your POS machine.
You can calculate the size of thermal paper roll by checking the length, diameter, core size, and width by measuring the edges, inner and outer core size. This is the best practice to get an approximate size of thermal paper.
If you have any doubts about thermal paper size and diameter, consulting with your thermal paper provider would be best. They will help you select the best type of thermal paper for your POS machine. Call them today to order your slot.
How do you know the diameter of the thermal paper roll?
The standard diameter of a thermal paper is 80mm. You can calculate the diameter of thermal paper by measuring the center hole with the help of measurement tape. So, whenever you purchase thermal paper, ask for the thermal paper 80mm x 80mm, or you go with the thermal paper having 40mm diameter. You can choose any of them based on your requirements and POS  thermal paper machine.
How do you measure the length of thermal paper roll for best compatibility?
The standard thermal paper roll length is 214 x 50. Buying thermal paper with this length will give you many printed receipts. If you want customized short or long thermal paper, you can send a request to the concerned company with specific thermal paper details.
What is the standard size of a receipt?
There are different specifications for a thermal paper roll receipt. When you insert the roll in a credit card machine, this will give you a 57mm wide receipt, and when you insert it in a thermal printer, you will get the receipt with 80mm width. You can ask for customized thermal paper if you have a printer that takes thermal paper with different lengths or widths. Ask your thermal paper retailer for 3 1/8 inches thermal paper roll as it goes well with almost all types of thermal printers.
Different Qualities Have Huge Price Differences
Different factors of thermal paper indeed make it a complete product to be used for business printing purposes. However, purchasing a quality-assured array is tricky as you have to think about a variety of parameters. But most importantly, you have to buy your thermal paper from a reliable provider, so you don't suffer from quality issues.
Not connecting with a credible source can give you ample reasons to blame the quality of thermal paper you receive. Sometimes, you may get a high-quality range of thermal paper from your service provider, and when they gain your trust, they can degrade thermal paper quality, and you won't even notice at all. Therefore, it's mandatory to research about your thermal paper vendor and its market credibility.
Things to Consider When Buying Thermal Paper from Manufacturer
If you're currently utilizing thermal paper for your business operations, you have to be sure about the type of thermal paper you are using. Selecting the right thermal paper is quite important and typical, but it must be done with proper care and focus. So let's check the factors to be emphasized before selecting the appropriate thermal paper for your POS are.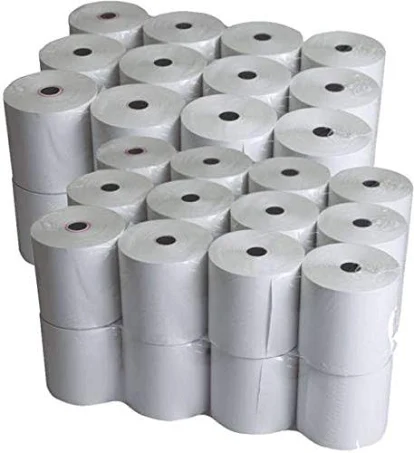 Heat Endurance
What is heat endurance?
However, thermal paper can withstand better when exposed to heat but, you still have to be careful when choosing thermal paper for your operations. Bear in mind that if you expose thermal paper to extreme heat, it will turn black and also might lose printed characters. In that case, you have to purchase the heat endurance thermal paper roll from your thermal paper supplier. Ask them to offer you heat-resistant thermal paper rolls that are specially made to withstand heat and extreme ultraviolet light.
Moisture Resistance
How does thermal paper sink moisture?
Moisture can make the print on thermal paper less stable that soon seems in a faded form. Storing the thermal paper in a cool and dry place is considered to keep the print on receipts stable for a long time. To avoid this situation, you can ask your vendor or manufacturer to provide a moisture resistance paper roll to withstand moisture, humid or wet environment and still be in a better form.
Variable Paper Thickness Can Confuse People
How is the thickness affects thermal paper quality?
There's a myth among people that thicker material has high durability. But it's not true in the thermal paper case because thick material means less paper in the roll. Hence, if you choose a thick thermal paper roll, you'll have to change the roll frequently because it will provide you with fewer printing receipts than a thin or smooth thermal paper roll. So, be cautious if your vendor insists you buy the thermal paper, which is thin in texture; instead, ask them to offer you a more lengthy thin receipt printing roll.
The Lifespan of Thermal Paper Documents
What is the lifespan of printed thermal documents?
The lifespan of the documents depends on the storage environment. Typically 5 to 25 years is the range of the image.  The more protected the documents are, the more durable and stable the prints are. So, if you want to keep the documents as a reference for the future, you have to keep them away from moisture, heat, and other false environmental factors. For more information, you can read the guidelines written on the thermal paper box.
The Topcoat of Thermal Paper
How do we check The Topcoat of The thermal Paper?
The topcoat of the paper provides an additional layer of protection against specific harsh or specific environmental conditions. So, if you have a different operational environment that requires some paper specifications, it would be best to choose the thermal paper with specific topcoat material. You can check the paper topcoat by keeping it under the test of extreme heat or UV light. The other way is to ask your supplier if the paper is durable enough to withstand extreme heat and light.
Size of The Paper
How do we measure the size of paper?
There are several sizes available for thermal paper. Unlike other papers, it doesn't come in a standard size, and you have to purchase it by keeping your printer specifications in mind. Due to its availability in different lengths and widths, you can ask your thermal paper supplier to offer you the slot which can go well with your thermal printer used for receipt printing. You must know your printer model and specifications before measuring the size of thermal paper you're ordering from a reliable online or offline source.
Where To Buy Thermal Paper?
Now, you have all the details about the thermal paper. You know what thermal paper is, how you measure its size, and what factors to be considered when buying it from the suppliers. But do you know what are the best sources to purchase thermal paper?
It's one of the most important factors that need to be considered on a prior basis. Let's discuss how you can choose the best thermal paper supplier to accomplish your needs.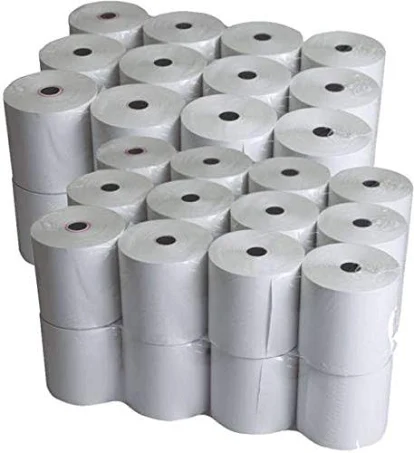 Through Online Platforms
From which website can I purchase thermal paper rolls?
If you wish to buy thermal paper online, you must first take some references from your friends to know which thermal paper manufacturer and supplier are trusted. Other than this, you can search across the web to check the most reliable thermal paper provider and offer the best quality thermal receipt paper. For a reference, you can rely on Graphic Tickets Systems, as this is the credible thermal paper manufacturing and supplying company, serving businesses with top-quality thermal paper, bond paper, and carbonless paper.
From Thermal Paper Manufacturers (bulk action)
Which is the best manufacturing plant for thermal paper rolls?
Check out which are the top-rated thermal paper manufacturers you can directly purchase your thermal paper slot. Connecting directly with the manufacturers can help you get high-quality thermal paper at reasonable prices—research for such service providers. Counting on Graphic Tickets Systems would be beneficial as it is one of the top manufacturers of thermal paper companies to purchase your paper.
Through Trusted Suppliers
Who is the best supplier of thermal paper?
Apart from online sources and direct manufacturers, you can contact thermal paper rolls suppliers who can help you get the best quality thermal or POS paper for your business operations. Browse over the web to find the best one from the dense list. You can find many suppliers listed as reliable thermal paper suppliers, but you have to try your luck by doing in-depth research and finalizing the one which is actually the best among all and fits best to your requirements.