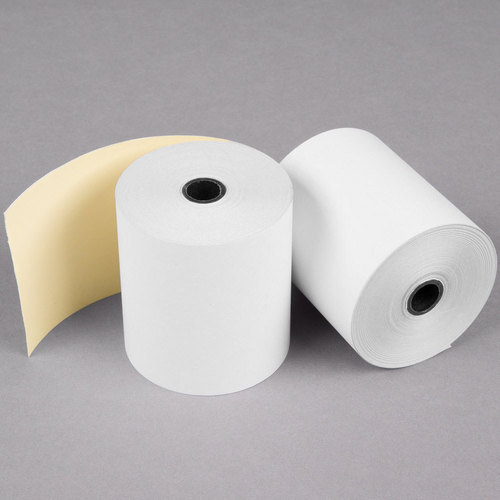 Difference Between Carbonless and Thermal Receipt Paper – Facts You Need to Know
Due to the digitalization of almost everything around us, it is quite normal for payment processes to transform over time. From multiple copies made with carbon paper to point-of-sale machines, almost all retail outlets and service industries are now using thermal paper to ensure that their sales records are ready to access at all times. Be it a small shop in your area or a multi-level shopping center, receipt paper is common and provided at almost all brick and mortar stores as proof of purchase. This blog will learn about the difference between carbonless vs. thermal receipt paper.
Difference Between Carbonless vs. Thermal Receipt Paper
Receipt paper starts as base paper made from wood pulp. However, carbonless receipt paper is a base paper with a two-ply design. In addition, it has been coated with micro-encapsulated ink or dye, making it easier for you to create more than one copy of a receipt while printing.
Some important points which create a major difference between thermal receipt paper and carbonless paper are as follows:
1)- Paper surface color
Carbonless printer paper comes in three different surface colors: white, pink, and canary.
2)- Coating
The carbonless paper has several coatings at the front and the back, which help create images through applying pressure.
3)- Ribbons
Carbonless receipt paper has a traditional printing ribbon which provides a good quality print on the first page, and the pressure on the first sheet creates an image on the sheets under it.
4)- Print-out image color
Carbonless receipt paper has at least two to three sheets, one of which goes to the customer, the other goes to the retail business owner. In addition, the first sheet of the carbonless receipt paper has dye pigments that, when applied pressure, create a replica of the topmost sheet on the second and third layers of the sheet.
Thermal receipt paper
Thermal receipt paper is base paper that has been coated in several layers of chemicals and dyes that provide a smooth surface wherein text or image is printed via heat.
 1)- Paper surface color
The paper surface color for thermal receipt paper is usually white, and when exposed to heat, they turn black to create images or text.
2)- Coating
Thermal receipt paper has several coatings. A layer of chemicals creates a smooth and bright surface suitable for a thermal receipt printer and creates images or text by a thermochromic reaction.
 3)- Ribbons
A thermal receipt paper is more common in usage as these are easy to use and do not need any printing ribbons, and work on the principle of heat to create text and images.
4)- Print-out image color
Thermal receipt paper rolls have heat-sensitive coatings on both sides. Most have one heat-sensitive, bright and smooth surface, whereas the other side is not heated. Therefore, the text or image created is blue or black due to heat-sensitive chemicals in thermal receipt paper.
Commonly used paper type for receipts
The most common type of paper used for receipts is thermal paper rolls. However, some businesses use carbonless or wood-free paper. Thermal receipt paper works only with thermal printers. On the other hand, wood-free paper is usable on all standard printers. Finally, carbonless paper is majorly used in laser printers. The main reason for the usage of thermal receipt printers is as follows:
 1)- Lower maintenance cost
Due to the minimized need for moving parts in a thermal printer, it is comparatively less needful for regular maintenance and repair than a standard printer.    
2)- Minimal running cost
Thermal printers do not need ink to print images or text and can easily print through heated printer pins. Therefore no need for ink cartridges or ribbons.
 3)- Faster print speed
Compared to a standard printer's speed, thermal paper printers can create text or images in less than a minute, making it easier to print packing labels and receipts for customers.
 4)- Adaptability
When text or image is printed on thermal paper, it has a high-quality image created in less than a minute. Due to the same benefits, thermal paper and thermal printers are quite popular across all businesses and industries—the use of thermal receipt paper has increased due to its quick and exact results.
In Summary
With all the helpful information provided above, you can choose between carbonless paper and thermal receipt printer paper as a business owner. Graphic Tickets & Systems has been in the field of creating high-quality thermal receipt papers for a variety of machines and business fields. The experienced professionals will guide you and help you understand the best-suited thermal receipt paper or carbonless receipt paper in your business field.
Also, thermal receipt paper has different types based on the different thermal paper printers available. Therefore, Graphic Tickets & Systems can make it easier for you to select the best-suited type for your business and thermal printer machine.