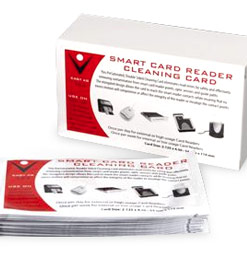 Proper Kiosk Maintanence
Contamination from dirt, oil and debris can cause your kiosk to malfunction. At first these contaminants cause intermittent read errors, but over time they will get gradually worse. In order to keep your kiosk running smoothly, cleaning your kiosk should be part of a preventative maintenance plan.

Benefits of cleaning your kiosk
Cleaning you kiosk will increase the life span of your equipment, and hence reduce your cost of production. Other benefits of cleaning your kiosk include:
It will reduce maintenance fees
It will lessen down time, hence maximizing the kiosk's profit margins
It will reduce the probability of erroneous transactions
It will help prevent your kiosk paper from clogging or streaking
What do you need to clean in a kiosk?
When you have to clean your kiosk, don't just wipe down the sides and screen and call it a day. Use the following tools to clean the more essential parts:
Card readers
Using a card reader cleaning card helps clean the magstripe reader. Using this device helps make sure your customers enjoy error-free debit or credit transactions from your card reader.
Bill acceptors
A bill acceptor is likely to cause errors when contaminated by dust or other forms of dirt. You just need a cleaning card that will wipe the optical lens, among other parts. When your bill acceptor keeps rejecting cards or has currency jamming in the slot, try to clean the machine. It could be the solution.
Thermal printers
The life of a thermal printer is easily interrupted by contaminants. You can maintain the manufacturer's expected life span by constantly cleaning the printers using a cleaning swab or a printer cleaning card. This will help optimize the use of your thermal paper as well.
At Graphic Tickets & Systems, our mission is to Make Every Transaction Count. This includes helping operators keep their machines running as smoothly as possible. Please contact us to discuss cleaning card supplies or to receive a free quote on thermal paper rolls.