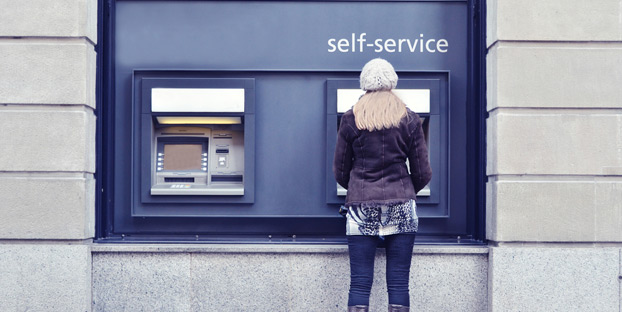 As Branches Contract, ATMs Expand
The rise of digital technologies has predicated the fall of brick-and-mortar branch locations for banks. Every year, more and more physical locations close as customers turn to online banking or self-service options, such as the ATM. Celebrating its 50th anniversary in 2017, the ATM is still the customer-preferred self-service channel and method of interaction with a bank, even among smartphone users.
Trend forecasting predicts the ATM will grow to be known as more than a one-dimensional tool to access cash. As the number of ATMs grows globally, the ATM will evolve to become an interactive touchpoint for consumers requiring secure, reliable access to cash, while also enabling transactions such as check and mixed media deposit, all carried out with an experience similar to the devices consumers use throughout the day, such as a tablet or smartphone. This growth in the ATM channel is expected to happen rapidly. The latest industry forecasts predict that the number of ATMs installed globally will grow to 4 million by 2021, up from 3.2 million in 2015.
This expansion undoubtedly carries both opportunities and challenges for ATM manufacturers. It is imperative that companies develop and implement self-service technologies able to adapt to user demand, and provide a consistent look and feel across in-bank, branded hardware and software and personal devices.
It is also essential that manufacturers manage ATM paper costs by partnering with the best thermal paper supplier for their particular needs. One that can accommodate these increasing demands and provide strategies for utilizing ATM paper as a marketing tool able to offset diminishing branding opportunities and customer interactions.
At Graphic Tickets & Systems, we are uniquely positioned to help manufacturers navigate through this evolving marketplace. Please contact us to discuss your ATM paper needs, or to receive a free quote.
And visit our online store to save up to 40% off stock ATM paper options. We offer free shipping for all orders placed online.