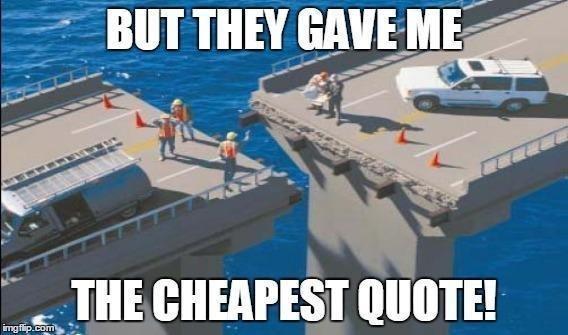 Watch Out For Cheap Thermal Paper
Basic business math suggests that paying less for a commodity product results in higher profits. Unfortunately, that's not always the case. Especially when it comes to thermal paper rolls for printing machines like ATMs, Kiosks, cash registers, and more.
If you are responsible for buying thermal paper for your company, you should definitely shop for the most competitive price. But remember, there's a big difference between affordable and cheap.
If the price you're being quoted seems too good to be true, here are some potential reasons why:
Imported Paper: Rather than source through local paper suppliers, some manufacturers import paper from China, which has fewer regulations resulting in a lower price. While the price looks good on a quote sheet, the actual paper delivered typically performs poorly, resulting in tears, jammed equipment, and scratches to your print head, all of which will cost you more in aggravation and repairs.
Paper Shortages: Whether it's being done intentionally or accidentally, sometimes thermal paper rolls, such as ATM paper rolls, are loosened around the core so that the buyer is actually receiving fewer ATM receipts per roll purchased.
The first defense against buying loose rolls is to partner with a reputable thermal paper supplier. But you still may want to verify that you're getting the footage that you expect. So, ask to see the rolls that you purchase, particularly for large orders. Push against the core in the center of the roll, and see if there's any give. If the paper "cones" out, that means it's loose and may have fewer receipts than it should. Thermal paper rolls should be wound tight, so that they can accommodate a maximum number of receipts, giving you more bang for your buck.
Mistaken Specs: Many paper suppliers are cutting overhead to compensate for declining sales. Customer service and experienced sales reps with higher salaries are sometimes the first to go. That means less experienced people are quoting thermal paper rolls based on your order specs, which leads to mistakes. Maybe the dimensions are slightly off. Chemicals like BPA are included when the order was BPA-free. The paper sensitivity isn't the right match for your machine, which will hurt image quality. It pays to work with an experienced supplier who will quote the proper paper for your particular job, saving money in the long run.
At Graphic Tickets and Systems, our mission is to make every transaction as profitable for you as possible. Whether you're in the market for ATM paper, Kiosk paper, Parking Ticket paper, or more, please contact us for a free quote. Find out how much we can help you save.
Or visit our ONLINE STORE for savings up to 40%, and free shipping on all orders.