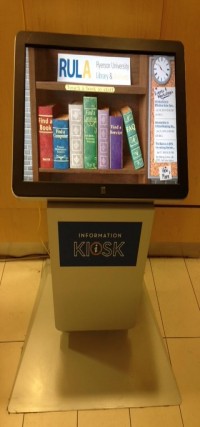 The Keys to a Successful Kiosk
Everything from exterior paint to POS paper.
Machines cannot make the same impression on a customer as a person. At least, not yet. But well conceived kiosk machines can make a reliably positive impression over a long period of time, one that can enhance the customer experience and boost a business's bottom line.
Successful kiosks often share the same essential components.
Attractive Design
One of the most important aspects of building a successful self-service kiosk is capturing a customer's attention and inciting interaction, both of which rely on conceptualizing and constructing a compelling design.
Kiosk design encompasses more than just graphics and messaging, although both should be attractive, creative, and clear. It should also take into consideration the user interface in order to offer the most welcoming and intuitive interaction possible.
Engaging Interface
From size, shape and color to screen positioning and height, the physical form and appearance of a kiosk is the first thing that potential users see and has the most influence over their decision to interact.
Once you have an interested customer, the next step is ensuring that they can easily access the merchandise, service or information they need. When choosing the way customers will interact with a kiosk it's important to keep things simple, the messaging and calls to action clear and to understand how users will navigate through each screen. Images should be clearly displayed and buttons easy to identify.
Many kiosk designers are now taking cues from touch screen tablets to provide an intuitive interface that customers have become familiar with and find easy to use.
Properly Matched POS Paper
Lastly, operators want a kiosk that requires little maintenance and is unlikely to break down. Dysfunctional machines are not only costly, but reflect poorly on the operator as well. One component that can affect machine performance and efficiency is the thermal paper used for tickets and/or receipts.
Certain types of thermal paper and customized POS paper rolls work better with particular machines, allowing for faster and cleaner printing. Properly matched POS paper also minimizes jams and paper tears, which can lead to down time and costly repairs.
At GTS, we appreciate excellent kiosk design and are committed to supplying our customers with quality POS paper that will work best with their specific machine. Please contact us to discuss how to make your kiosk as profitable as possible. Let's Make Every Transaction Count.