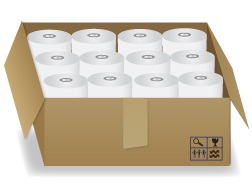 How Beneficial Is Storing Your Parking Tickets Paper For Smooth Business Process
Don't you think that paid parking should be automated and introduced with the development of a new app-based system? It would be more than helpful as the automated system will eliminate the need for picking and waiting to collect parking tickets at the exit lane.
To save time and cost, you must have the parking tickets in bulk. Do you have them, or do you want to order them from reliable thermal ticket paper manufacturers? And if you have bulk parking tickets, how do you store your order to protect them from outside weather and harsh conditions. You won't believe it, but it's beneficial and also helps save on thermal paper rolls.
Let us help you by explaining the benefits and tips of storing parking tickets for a business.
The best way to save money on any product is to buy it in bulk and store extras. Parking ticket paper is no exception to this rule – you need to protect your investment. There are a few tips you should consider when choosing a place to store your thermal parking ticket paper. Your paper must be kept in proper conditions to maintain its integrity.
By exploring the article, you'll learn about the best practices of storing parking ticket paper. Check them out to get immense advantages.
Best Practices to Store Parking Tickets Paper
Sustaining Image Integrity on Thermal Parking Ticket Paper
Because most parking ticket paper images are made of dye and co-reactant technology, the images are sensitive to ultraviolet light. This means that prolonged exposure to office lights or sunlight can damage any image on your paper. The durability of the image is correlated to the degree to which it was originally developed, the product design, and the level of intensity of the UV light. This is the reason your parking ticket paper should be stored in a dark area and exposed to UV light as few times as possible.
Ensuring Image Shelf Life
As long as parking ticket paper has been printed using the proper equipment, the image should be eligible for seven to twenty-five years. To ensure that your product lasts that long, store parking ticket paper with compatible materials in the conditions already outlined.
Choosing The Right Parking Ticket Paper Supplier
So, now you are ready to choose the right thermal ticket paper supplier and manufacturer. But do you have any idea about what to look for in a supplier before moving ahead with the deal? Let's catch all the mandatory points here, along with the appropriate details.
Make sure that your parking paper can withstand harsh weather conditions
Your selected parking ticket paper should be weather resistant and should withstand different temperatures of elements. So, whenever you choose your parking ticket paper supplier, make sure the paper they provide you is:
   

durable

   

has excellent printing ability (can print information clearly); and

   

must have a fine thermal coating to make the information long-lasting and readable on thermal paper.
Free Warehousing
Before finalizing the supplier, ask them if they have an accessible warehousing facility to store your thermal parking ticket paper. Go with them if they offer such facility and also make sure about the charges they ask to store your parking ticket paper. If you buy thermal parking ticket paper from them, they will assure to store your order under suitable climate conditions.
Different Colors Available
Today, parking tickets are available in different colors. Therefore, you can raise a query about offering you the colored parking tickets papers as per your requirements. It would be a significant step towards attracting your customers by providing them with a colorful parking ticket printed with the company logo and important information printed.
Quick Turnarounds on all parking ticket paper orders
A credible parking ticket paper supplier makes the best out of all the orders given to the company. Hence, it is mandatory to ask about the turnaround time to complete bulk thermal parking ticket paper rolls orders. Graphic Tickets & Systems possesses expertise in completing bulk orders on time and also with optimum quality. Therefore, you can contact us today to order your parking ticket paper slot. 
Paper for all hand-held devices
The most crucial point to consider while choosing the right parking ticket paper supplier is knowing whether the paper rolls they provide are compatible with all the hand-held parking devices.
This is how you can complete your process of connecting with a leading and reliable store parking ticket paper supplier.
Now, you have an idea about how to choose your thermal parking ticket paper supplier; it would be good for you to know the places storing parking ticket paper is prohibited. Do you know the places? Let us help you determine the places never to store thermal parking tickets paper rolls.
Places Not To Store Your Thermal Parking Tickets Paper
Near the window/lit place

In a humid place room

Near oils and liquids

Inside your car

In the kitchen

In walk-in coolers

At a place with many people

Next to organic solvent

Near adhesives

In dusty places
Conclusion:
Properly storing thermal parking ticket paper has become important for businesses offering parking facilities to the customers. They must buy premium quality store parking ticket paper and store the consignment under favorable climate conditions to streamline processes. If you want to buy bulk thermal parking ticket paper but are afraid of damage and other problems, parking paper storage services are the solution.
So, don't be in a dilemma. Choose the right thermal parking ticket supplier who offers high-quality custom direct thermal parking ticket paper roll and provides the ways and services to store your bulk orders in safe and favorable conditions.
FAQs
How do you preserve thermal print paper?
Since thermal paper is sensitive to UV light, therefore should be stored carefully to ensure fade resistance. When you think of storing thermal parking ticket paper, make sure the slot is stored in a dark place at a relative temperature of up to 77°F (25°C) and in a humid atmosphere between 45% to 65%.
Do thermal paper rolls go bad?
All types of thermal paper, including parking ticket paper rolls, require proper maintenance. So, if you succeed in maintaining and storing these parking papers under the desired temperatures and humid conditions, you can expect an excellent performance from your bulk slot. Otherwise, the results may vary and can also transform into worst, for example, instant fading.
What temp does thermal paper turn black?
By experimenting with direct thermal parking ticket paper roll, you will observe that the paper reacts and turns black if the temperature exceeds 120° F . This happens because of the heat-sensitive chemical coating thermal paper has that reacts and darkens the entire area.
Is all parking receipt paper the same?
Parking tickets are manufactured with high-quality thermal paper. The paper is similar, but the sizes may differ as per requirements. Graphic Tickets & Systems is the reliable source you order your next slot from if you are looking for the best quality thermal parking tickets.