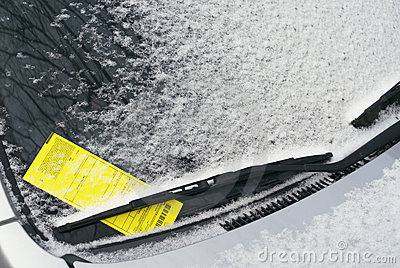 Weather Resistant Parking Ticket Paper
Parking ticket paper should be just as tough as the officers who dole them out. Otherwise, it'll be torn to shreds.
Toughness is especially important when it comes to weather. Parking ticket paper and remittance envelopes that sit exposed on windshields need to be able to withstand any condition weather throws its way, from rain and sleet to blistering sun and snow. Ideally, it should be able to withstand the tearing hands of irate drivers, too, but that's a whole different story.
The durability of your ticket paper depends somewhat on the environment of your region, but all ticket paper should be able to withstand a range of weather conditions.
Here are some general guidelines to follow when considering thermal paper for your parking tickets:
DURABILITY
The first thing you should look for in parking ticket paper is durability. Can the paper you're considering withstand rain, snow, storms, and heat? If not, move on to the next option. Choosing the right paper from the beginning means you'll have fewer problems in the end. Fewer people challenging the tickets because they weren't able to read them.
PRINTING ABILITY
The next thing to consider when researching parking ticket paper is how it absorbs ink. Be sure to find a supplier who can match your printer specs with paper that will deliver a legible and lasting ink display. This is especially important for parking tickets, as smearing or fading can result in the recipient being unable to read the instructions.
THERMAL COATING
The process of adding a thermal coating to ticket paper makes the product resistant to all weather conditions while still allowing the paper to be used in your typical printer. Paper that is thermal coated can be purchased in various sizes and is used for several purposes. If you're considering investing in new or additional parking ticket paper, thermal coated paper is the best option for you.
At Graphic Tickets & Systems our mission is to Make Every Transaction Count. This includes weather priming your parking ticket paper to ensure its ability to withstand any condition. Contact us to discuss your parking ticket paper needs, or to receive a free quote.