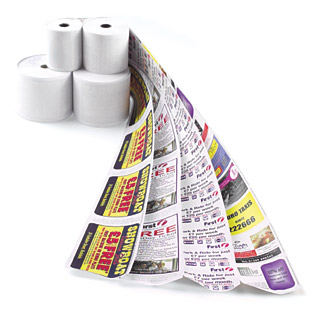 April 15th, 2015 by
GTS
Financial institutions are always looking for new ways to advertise. Often times, however, they neglect to utilize one of the most effective and efficient outlets available to them: their own ATMs. The ATM offers access to current and prospective customers when banking is top-of-mind via a variety of messaging options. This article covers the use of the printed receipt as a means to deliver a high quality, low cost advertising message to a highly targeted audience.
Receipt paper is a necessary ongoing expense for ATM operators, making the choice to advertise on the back of ATM paper an exceptionally efficient one. Compared to the cost of purchasing stock paper rolls, the cost of printing advertisements on them is a minimal addition.
Printing ads on the back of ATM receipts also offers the bonus of allowing you to track who you are reaching with you campaign. If you print a coupon with your advertisement, or something else that your customer must redeem, you will have an accurate measure of how many people you are reaching and who is responding to your campaign. Top manufacturing companies have stated that they have attained a response rate of higher that 10 percent. This rate soars above the typical 1 to 2 percent seen among most direct mail campaigns at a significantly lower cost.
The average roll of ATM paper can produce approximately 6,250 advertising impression. The cost to custom print your ads on the back of thermal paper can range from as little as $6.25 per roll. That makes the cost of ATM receipt advertising $1 per thousand advertising units. Below is an approximate cost for many media advertising outlets, and you can see that ATM receipt prices are much lower than that of the alternatives.
network TV: $28
print: $17
cable: $12
radio: $10
out-of-home: $5
online: $2
custom ATM receipt: $1
At Graphic Tickets & Systems, our mission is to Make Every Transaction Count. This includes helping customers deliver highly effective and cost efficient ATM paper advertising campaigns.  Please contact us to discuss your thermal paper needs or to receive a free quote.