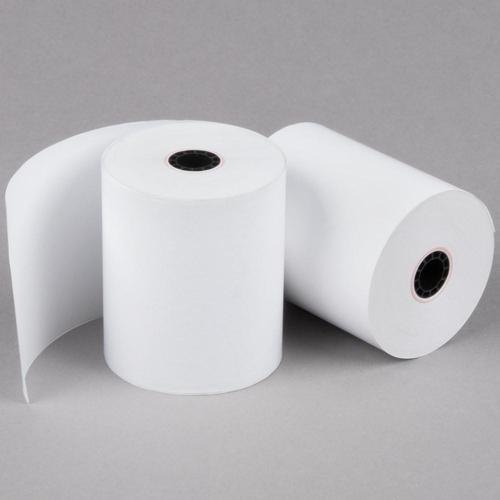 Thermal Paper Rolls: The Key to Uninterrupted ATM Transactions
Thermal paper rolls play an integral part in the proper functioning of an ATM. You might have tried to withdraw some money only to find out the ATM isn't working. Chances are, the thermal paper roll is likely unavailable. Thermal paper rolls are undervalued elements that make ATMs function without fail.
In this blog, readers will gain an understanding of how vital thermal paper rolls are for any Automatic Teller Machine (ATM). In addition, they'll be aware of why it's important to buy high-quality and reliable paper rolls for these machines in order for them to run transactions smoothly without any breakage in services. So let us discover why and how thermal paper rolls are integral to making our daily lives hassle-free.
Thermal Paper Roll: How Does it Work?
Thermal paper is a type of paper that is printed using a thermal printer. As the paper moves over the thermal print head, heat is used to create the image on the chosen portion of the paper instead of ink.
The image is formed by applying heat directly to the specially coated thermal paper. The coating changes color to black when it is heated. This process does not require the use of ink ribbon, toner, or ink cartridge to record information onto the thermal paper.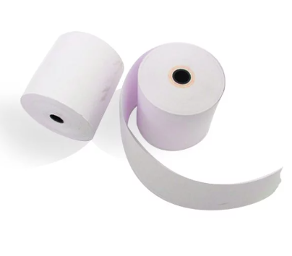 There are two main types of thermal paper available in the market:
Direct Thermal Paper

: Direct thermal paper has a coating on one side that changes color when it comes in contact with heat from a thermal printhead. This type of paper is specifically used for printing receipts and labels where speed and cost-effectiveness are crucial factors. 

Thermal Transfer Paper

: You need a thermal transfer ribbon to print with thermal transfer paper. The ribbon has ink made from wax or resin, which is melted onto the paper using a thermal printhead. This gives a strong and easily readable image. Thermal transfer paper is frequently used for tasks that involve harsh conditions.
What is an ATM Receipt Paper?
Thermal paper is used to print receipts in ATM transactions, and ATM receipt paper rolls are made from this type of paper. They are white, lightweight, soft, and smooth and can be used in various brands of ATMs, including NCR, Diebold, Wincor Nixdorf, and others. The paper has a coating of invisible chemicals that turn black when exposed to heat.
After finishing the transaction in the ATM terminal, the terminal will generate an ATM receipt paper. This paper contains important details, such as your account balance, that can help you stay updated with your account information.
The ATM paper roll has multiple benefits, like easy installation, low maintenance, and a larger paper amount on every roll. The printing on these papers is clear and readable. Additionally, we can incorporate black sensor marks or print your brand logo, advertisements, terms & conditions, etc., on the paper to promote your business.
Benefits of Using ATM Receipt Paper

The major advantages of ATM receipt paper are given below: 
Fast & Clear Printing

– The paper used for ATM receipts is made of thermal paper, which is a type of specialty paper. This paper responds when it comes in contact with the printhead of the printer thanks to an invisible chemical coating on its surface. The printhead produces black and white or colored letters and images on the receipt paper very quickly, so customers do not have to wait long for their receipt.

Reduced Cost

– ATM paper printing costs less since it doesn't need thermal transfer ribbons or ink toners. The printing cost is just for the paper and printer. Furthermore, ATM receipts are shorter and have less information, which lowers paper usage. This helps businesses save on printing costs by opting for ATM receipts. Thermal printing is a more cost-effective option instead of purchasing ink ribbons and toners, which can save hundreds of dollars.

Variety of Sizes

– The paper used in ATMs is essential and comes in different sizes and types. Each brand and model of ATM requires specific paper, with NCR, Diebold Nixdorf, Hitachi, and Fujitsu among the manufacturers that make models requiring particular paper types. 80mm x 150mm and 80mm x 180mm are the two most common sizes. Additionally, black sensor marks are present to cut the receipt paper automatically. Other paper sizes are available in the market based on ATM models provided by suppliers.

Easy to Install

– ATM receipts have a small and lightweight design. If the cash register runs out of paper, it can be replaced by the cashier in just a few minutes.

Convenience

– ATM papers have multiple uses and are highly versatile. They can be used to print receipts for various transactions, including sales, ATM withdrawals, and credit card payments. Additionally, businesses can print texts in different languages, making them a valuable tool for international companies.
Choosing the Ideal ATM Paper Rolls
Before selecting ATM paper rolls, please remember to consider the following points:
Brand

– Different brands have unique paper roll designs that should match your printer and paper type. You should select a paper that perfectly matches your machine's configuration.

Price

– The brand, roll size, and quality determine the cost of ATM paper. Make sure you purchase high-quality paper rolls that are more durable and long-lasting.

Size

– To ensure your needs are met, you should purchase a paper roll size that suits your requirements. ATM paper rolls come in different sizes to match your business needs. The most widely used size for an ATM receipt roll is 80mm wide. It may take longer to produce if you require a specific width for your receipt paper roll.
Conclusion
Thermal paper rolls are a necessary part of performing smooth ATM transactions. With the right roll of paper, you are ensured that your financial transaction paperwork is easy to read, legible, and clear. These rolls offer great visuals and provide a reliable way to keep track of customers' transactions, especially if there is an issue with their account or the product they purchased.
With so many advantages to using thermal paper rolls, it makes good business sense for all financial-based organizations to invest in quality ATM receipt paper. For many years, Graphic Tickets and Systems has been helping companies acquire premium quality and high-performance thermal paper at competitive prices, so reach out to them for your thermal paper needs today.